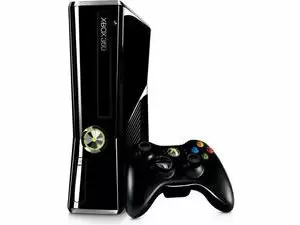 Xbox 360 Slim 250GB
by
xbox
We ve just got our greasy hands on and all over the new Xbox 360 250GB poking its buttons and pressing our ears to its shiny outer shell to see if it really is as whisper quiet as MS is making out. As we rip the new console out of the box shiny case is striking - its more compact than the original of course and noticeably lighter but its the sheen of that plastic that really stands out. We feared that the lighter weight and shiny finish risked giving it a slightly cheaper feel but thats not the case. This is one sexy console.
Buy Now

OR

Call us: +92 311 163 4275
29,999 PKR
Item Condition: Refurbished
SKU: 8364, Shipping Info: 24 - 48 Hours
Stock Info: Available
Features for Xbox 360 Slim 250GB
The Xbox 360 250GB Holiday Value Bundle features two free games, Halo 4 
and Tomb Raider (as a Downloadable Token), and one month of Xbox Live
Gold membership. Wi-Fi is built-in for easier connection to the world of
entertainment on Xbox Live, where HD movies and TV stream in an instant.1
 Xbox 360 is more games, entertainment and fun.
As mentioned above, the Xbox 360 Slim aims to correct some of the annoyances and
complaints current Xbox 360 owners have voiced. The new console comes packed with
a 250GB hard drive, built-in Wi-Fi that supports up to 802.11n, five USB ports, and
one additional slot devoted to Microsoft Kinect.
Specifications for Xbox 360 Slim 250GB
General Specs
General
Backward compatibility
Main processor
Number of outlets for hand controls
Supports wireless controllers
Type of media
Audio features
Type of surround
Communication
Network connection
Speed
Wireless network
Type
Bluetooth
GPRS
No
Compatibility
Internet-compatible
Place for memory card
Multiplayer support
Connectors
Component out
No
Composite out
Digital optical in
No
Digital optical out
HDMI
S-video out
SCART out
No
USB
USB 2.0 ports
USB 3.0 ports
USB ports (total)
VGA out
No
Headphone output
Decoders
Audio format
No
Surround encoder
Supported audio files
Supported image files
Supported video files
Dimensions
Dimensions (WxHxD)
Weight
Image properties
3D support
Supported image formats
No
Display
No
Screen resolution
Screen size
Touchscreen
No
Memory
RAM size
Storage
Built-in hard drive
No
Memory card readers
No
Compatible memory cards
Miscellaneous
Release year
Support for remote control
No
Including remote control
No
Links
Product page
Manual
Camera
Built-in camera
Lamp
Features
Built in GPS navigation
No
Power supply
Battery life
Number of batteries for operation
Type of battery
Warranty
=$warranty?>