Call or WhatsApp:

+92

3-111-

MEGAPK

(634-275)
Acer Iconia W700 Price in Pakistan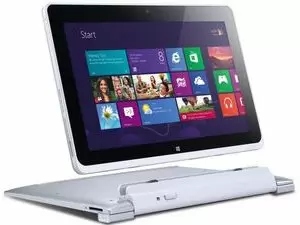 Acer Iconia W700
by
Acer
The compact 11.6" ICONIA W700, super-fast in Full HD, an ideal mix of tablet convenience and notebook performance for everywhere productivity and exploration with convenient Portait and Landscape cradle for enhanced productivity and touch control. Get more from you Iconia with Windows 8 Starter pack and worth of music and ebooks. Tablet and Cradle combo puts instant productivity at your fingertips. Portrait and Landscape docking Cradle for data expansion. Be always on it with Acers always on, always connect.
Buy Now

OR

Call us: +92 311 163 4275
This product has been deactivated.
Item Condition: New
SKU: 6759, Shipping Info: 24 - 48 Hours
Stock Info: Out of Stock
Specifications for Acer Iconia W700
General Specs
Operating system
Windows 8
Built-in camera
Yes
3G (UMTS)
No
Wireless network
Yes
VGA out
Yes
Screen size
11.6 inches
General
Buttons
Back, Camera, Home, Menu, Volume
Operating system
Windows 8
Audio features
Built-in microphone
No
Built-in speakers
Camera
Built-in camera
Yes
Auto focus
Yes
Built-in flash
No
Flash type
Digital zoom (still image)
Efficient numbers of pixels
5 megapixels
Maximum resolution (still)
Number of cameras
2 pc
Resolution 2nd Camera
Video recorder
Yes
Digital zoom (video)
Maximum number of fps when recording
Maximum resolution (video)
1280x720 pixels
Lamp
No
Communication
3G (UMTS)
No
HSPA
No
Speed (down)
Speed (up)
Bluetooth
Yes
Bluetooth profile
Version
4.0
Built-in FM transmitter
EDGE
No
Frequency band
GPRS
No
IR
No
Network connection
No
Supports NFC
No
Support for IP technology
Web and email functions
Wireless network
Yes
Support media sharing
Type
802.11b, 802.11g, 802.11n
Compatibility
DLNA certified
No
Type
Dockable
Yes
Keyboard dock included
Yes
Connectors
HDMI
Yes
Headphone output
Yes
Microphone input
No
S/PDIF out
No
USB
Yes
Charging via USB
No
USB 2.0 ports
2.0
USB 3.0 ports
Yes
USB ports (total)
1 pc
VGA out
Yes
Decoders
FM radio
No
Supported audio files
Supported image files
Supported video files
Design
Colour
Black, Silver, White
Dimensions
Dimensions (WxHxD)
295 × 191 × 11.9 mm
Weight
950 g
Features
Built in GPS navigation
No
Integrated geotagging
No
Type of GPS
Built-in internet services
Image properties
Backlight
LED (Light emitting diode)
Pivot function
No
Type
Scratch resistant display
No
Screen resolution
1920x1080 pixels
Screen size
11.6 inches
Simultaneous touch points
3+ Multi-touch
Type of technology
Capacitive
Memory
Memory Speed
RAM size
4GB
Type of memory
DDR3
Power supply
Battery capacity
Battery life
9 h
battery type
Li-polymer
Processor
Graphics processor
Yes
Graphics processor type
Intel® HD Graphics 3000
Processor core type
Dual Core
Processor speed
1.8Ghhz
SoC (System on Chip)
Type of processor
Core i3 -2375M
Storage
Internal storage space
64GB SSD
Internal storage space (type)
Flash memory/SSD
Memory card readers
No
Compatible memory cards
Including memory card
No
Maximum amount of memory
Miscellaneous
release year
Links
Product page
Manual
Warranty
=$warranty?>