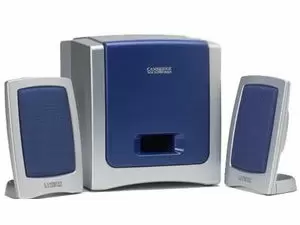 Creative PcWork Slim 500
by
Creative
If youre looking for a slim design, 3-piece speaker system with great audio quality, the SoundWorks Slim500 from Cambridge SoundWorks is the perfect solution. These affordable speakers feature magnetically shielded satellites with detachable stands for flexible placement on your desk or wall, an electronically contoured subwoofer for resoundingly deep bass, and a convenient wired volume control with power switch and LED indicator.
Buy Now

OR

Call us: +92 311 163 4275
This product has been deactivated.
Item Condition: New
SKU: 3016, Shipping Info: 24 - 48 Hours
Stock Info: Out of Stock
Specifications for Creative PcWork Slim 500
General Specs
General
Built-in control unit
No
Clock radio
No
External control unit
No
Magnetically shielded
No
Number of speakers
2
Power consumption (operating)
Power consumption (standby)
Weather sealing
No
Audio features
Capacity, total
Center speaker
No
Frequency range
38Hz to 20kHz
Front speaker / speaker unit
No
Subwoofer
Yes
Basic elements, the number of (sub)
Bass elements, the size of (sub)
Capacity (sub)
Type of box body (sub)
Weight (subwoofer)
Surround speakers
No
Communication
Network connection
No
Wireless connection technology
Compatibility
Connection
Playback device
Radio reciever
Connectors
Analog 5.1/6.1/7.1 inputs
No
Analog RCA stereo input
Analog RCA stereo output
Composite out
No
Digital coaxial input
No
Digital optical in
No
Firewire
No
HDMI
No
Headphone output
No
Line in (3.5 mm)
Line out (3.5 mm)
No
Microphone input
No
Pre-out (subwoofer)
No
S-video out
No
USB
No
Decoders
Supported audio files
Supported image files
Supported video files
Design
Available colours
Dimensions
Dimensions (WxHxD)
114x 161x 46
Weight
Image properties
Display
Supported image formats
Power supply
Operated by battery
No
Powered by electricity
No
Storage
Memory card readers
Optical drive
Miscellaneous
Release year
Remote control
Links
Product page
Manual
Warranty
=$warranty?>