Call or WhatsApp:

+92

3-111-

MEGAPK

(634-275)
HP Mini 110 Price in Pakistan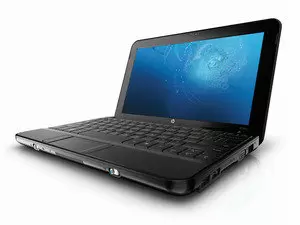 HP Mini 110
by
HP
Say hi to your new confidante. The new HP Mini 10-1006TU is now slimmer and smaller, but with a larger screen! With the nearly full-sized keyboard, the HP Mini gives you endless possibilities in connecting anywhere, making your world much smaller.
Buy Now

OR

Call us: +92 311 163 4275
This product has been deactivated.
Item Condition: New
SKU: 180, Shipping Info: 24 - 48 Hours
Stock Info: Out Of Stock
Specifications for HP Mini 110
General Specs
Processor Type
Intel® Atom?
Processor Speed
1.66GHz N280
Hard drive size
160GB
Installed RAM
1GB
Screen size
10.1 LED
Operating system (Primary)
Windows 7
Processor
Processor Type
Intel® Atom?
Processor Model
Processor Speed
1.66GHz N280
Max Turbo Frequency
Processor Bits
Processor Threads
No of Cores
L2 cache
512 KB
L3 cache
Bus speed
Chipset
Memory
Number of memry slots
2
Installed RAM
1GB
Maximum memory
Type of memory
DDR2
Storage
Hard drive size
160GB
Hard drive speed
Optical Drive
Type of harddrive
Card Reader
Yes
Type of memory cards
SSD
Number of SSDs
SSD size
Graphics
Dedicated graphics
Shared Memory
Graphics processor
Intel Graphics Media Accelerator 950
Maximum shared graphics memory
Display
Aspect ratio
Backlight
Screen size
10.1 LED
Screen surface
Diagonal High Definition HP Brightview Display
Screen resolution
Touchscreen
Design
Colors
Dimensions (WxHxD)
Weight
1.17 kg
Fingerprint Reader
No
Numeric keyboard
Backlit keyboard
Connectivity
3G
EDGE
Bluetooth
Yes
Type of bluetooth
LAN
10/100
Speed
Modem
No
Wireless/Wifi
Yes
Type
Infrared
No
Connectors
DVI out
eSATA
Firewire
Headphone output
Microphone input
Parallel port
S/PDIF out
Serial port
TV-out
USB
HDMI
VGA Output
Power
Battery life
6-cell battery
Battery type
No of cells
Miscellaneous
Camera
Yes
No. of effective pixels
Remote Control
No
Software
32/64-bit OS
Operating system (Primary)
Windows 7
OS (Secondary)
Included software
Links
Manual
Product page
Warranty
=$warranty?>