Call or WhatsApp:

+92

3-111-

MEGAPK

(634-275)
Q Mobile Noir A12 Price in Pakistan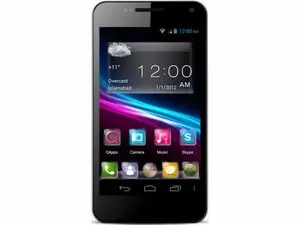 Q Mobile Noir A12
by
QMobile
Qmobile Noir A12 is gonna be more like Samsung Galaxy Note, Big Screen Tab/Phone is expected by the start of february 2013 with 3G. The specifications are unknown yet but these all things clear at the time of release.
Buy Now

OR

Call us: +92 311 163 4275
This product has been deactivated.
Item Condition: New
SKU: 7043, Shipping Info: 24 - 48 Hours
Stock Info: Out of Stock
Features for Q Mobile Noir A12
SMOOTH TOUCH
Qmobile Pakistan Launched another Model Qmobile A12 Noir with4.3 inches wide WVGA AMOLED display.
REAR ND FROUNT CAMERA

 

QMobile noir A12 Android 4.0 Ice Cream Sandwich phone  with 5 mp camera with led flash camera.

 

 

 

 

QMobile Noir A12 Android 4.0 Ice Cream Sandwich phone. Announced December 2012 Display Capacitive AMOLED LCD 5 Mega Pixel AF camera with LED flash Camera - See more at: http://www.mobilespecs.pk/phones/q-mobile-price-amp-specifications/noir-a12_3803.html#sthash.rJPWERl3.dpuf

QMobile Noir A12 Android 4.0 Ice Cream Sandwich phone. Announced December 2012 Display Capacitive AMOLED LCD 5 Mega Pixel AF camera with LED flash Camera - See more at: http://www.mobilespecs.pk/phones/q-mobile-price-amp-specifications/noir-a12_3803.html#sthash.rJPWERl3.dpuf

 

 
PLAY FASTEST GAMES
Specifications for Q Mobile Noir A12
General Specs
Camera Pixels
5 megapixels
Touchscreen
Yes
Battery capacity
1700 mAh
4G LTE
Screen size
Operating system
Display
Display technology
WVGA AMOLED LCD
Display
Colour
Number of colours
16M colors
Scratch resistant display
No
Screen resolution
4.3 inches
Screen size
Pixel density
Touchscreen
Yes
Simultaneous touch points
Type of technology
Dual screens
No
Storage
Internal storage space
Memory card readers
Yes
SDIO
No
Compatible memory cards
micro SD
Maximum amount of memory
ROM memory
Yes
Memory quantity
4 GB
Camera
Built-in camera
Yes
Auto focus
Yes
Built-in flash
Yes
Digital zoom (still image)
Camera Pixels
5 megapixels
Maximum resolution (still)
AF camera with LED flash
Number of cameras
2 pc(s)
Resolution 2nd camera
Optical zoom
Yes
Video recorder
Yes
Digital zoom (video)
No
Maximum numbers of fps when recording
30 Fbs
Maximum resolution (video)
Torch/Lamp
No
Processor
Graphics processor
Yes
Graphics processor type
Processor core type
Dual Core
Processor speed
1.2 GHz
RAM
Yes
Memory quantity
512 MB
SoC (System on Chip)
CPU type
Communication
2G (GSM)
3G (UMTS)
No
4G LTE
Bluetooth
Yes
Bluetooth profile
Version
Built-in navigation system
Yes
Type of GPS
GPS/A-GPS
Integrated geotagging
IR
Yes
Support for IP telephony
Yes
Built-in SIP stack
Support via software
Supports NFC
Wireless network (Wi-Fi)
Yes
Supports media sharing
Yes
Type
Wi-Fi 802.11
Design
Colour
Black
Sliding
No
Physical keyboard/numpad
Features
Features (detail)
Shock resistant
Yes
Dual SIM card support
Yes
Voice dialing
No
Water resistant
Supports wireless charging
Compatibility
DLNA certified
No
OpenGL ES
No
Java
Connectors
3.5mm headphone output
Yes
Type of connection
3.5 mm Ear Jack
USB
Yes
Charging via USB
Yes
Type of USB connector
USB version
2.0
Dimensions
Dimensions (WxHxD)
Weight
Power Supply
Battery capacity
1700 mAh
Exchangeable battery
Software
Operating system
Miscellaneous
Release year
2013
Warranty
=$warranty?>